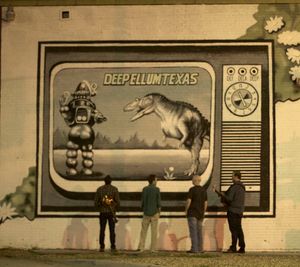 This is us admiring a mural before our show at Stonedeck a few weeks ago. Below is us playing one of our favorites, Sweet Appalachia by Del McCoy. We always have a good time at Stonedeck, as you can tell from the recording.
We will be back at Henderson Avenue Country Club (Country Club like Travis Tritt, not like Brushwoods) on May 27. They've asked us to play there more often, so you'll see some more events posted for June soon. Last week was nice and rowdy and we made some great new friends. Hope y'all all come out again next week.
Then June 4th we are playing at Klyde Warren Park, and are really looking forward to that. It is a nice stage, and a fabulous park with downtown Dallas as the backdrop. 
And on June 6th, we are back at Community Brewing Company for another Saturday 2pm show during the brewery open house and tour. If you haven't been to Community on a Saturday afternoon yet, you really should come out. Beer that's made on site, a little bluegrass pickin', food out of a truck and corn hole. Just like Christmas back home.