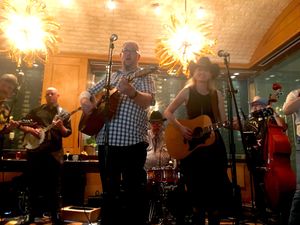 While we thoroughly enjoyed playing brunch at Fearing's surrounded by bottles of wine that cost more than our instruments, we will be playing in a little more familiar surroundings the next two months.
July 12th, we'll be back at Adair's for the 7 o'clock show. Come join us and enjoy one of the best burgers in Dallas.
Then on August 25th, we'll be at Double Wide with the Straw Hat Society. We go on at 9, and then Straw Hat Society will finish out the night. Tickets are $10 for the show and we'll post the link when they go on sale.
Also another thanks to our neighbor Over the Bridge Arts and  Houndstooth Coffee for a very fun time last Saturday at the Over the Bridge Summer Solstice Festival, and to Papa Racz for having us play at his birthday party.